The country I have recently fallen in love with is called "The Sultanate of Oman" – yes!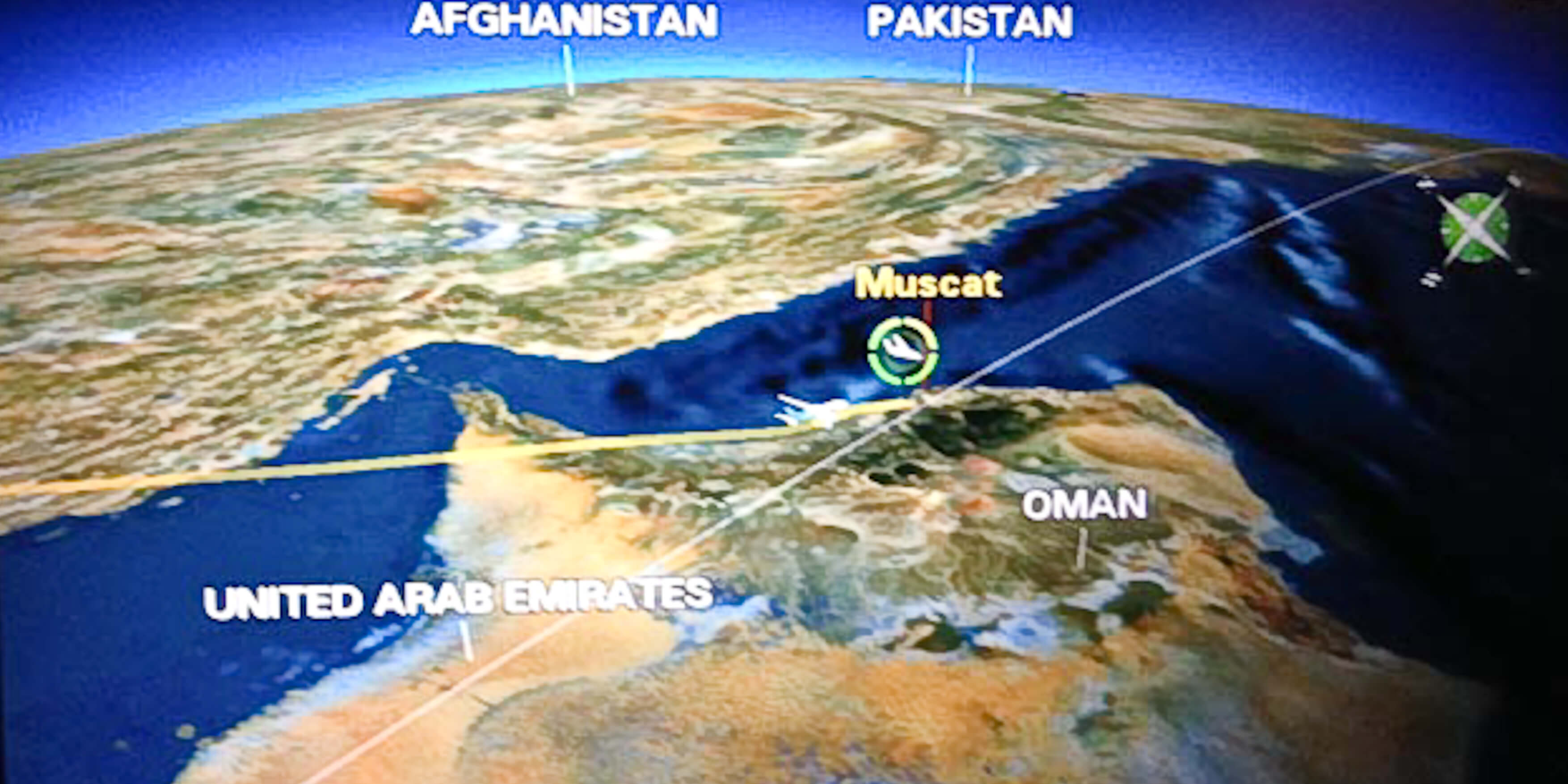 Why I like it that much? Very simple, because it offers a huge variety of everything: landscapes and nature spots, people who are lovely, open, friendy, helpful, merciful, peaceful, interested and hospitable (and believe me, bedouin women can be very funny and cheaky), most interesting cutoms and traditions, the incredible sights to see, the contrasts (sea/desert, town/villages, green/barren, gorges/high peak mountains), an amazing wildlife ranging from turtles, dolphins & whales, flamingos, beautiful birds, Arbian oryx, a pleasantly warm climate for eight months of the year when temperatures rarely dip below 20°C or exceed 30°C and on, and on, and on…
The Sultanate of Oman which is located on the extreme eastern part of the Arabian Peninsula, bordering the Jemen, Saudi-Arabia and the United Arabian Emirates, with a vast coast line. With its around 3 million inhabitants, of which the greatest percentage live in the bigger cities, and an expansion of around 310.000 square km (Germany 357.000 square km) is one of the sparsely populated countries of the world (7,8 inhabitants/square km). Their official language is Arabic, but due to around 25% foreigners living in the country, you also hear Hindi, Urdu, Suaheli – and very commonly and popular is Englisch. The currency is the Rial, which is pegged to the US Dollar.
So, let's start with the capital of the Sultanat, called Muscat, with its 30.000 inhabitants is completely laid back. In the old part, which lies on the beautiful Corniche with the small harbour and the incredible ships of the Sultan Qabus ibn Sa'id Al Sa'id just before your eyes: his yacht, big in size and comfort, and his traditional dhow boat, which he uses for guests, diplomats or his own private leisure. Here, in the old part of town, you find no building higher up than 3 floors, and together with the maze-like souq, the market area, and the overall impression of the houses, which are all kept in the traditional Oman architectural style, it gives you a homely and positive feeling right from the beginning.
Well, if you do not opt for the 5-star accommodations which are far outside the city and isolated, and rather stay in one of the small hotels in town, you can much more easily mingle with the locals. In this calm and quiet atmosphere you can stroll around the maze-like market, get lost in all the gold and silver, the millions of laces and bordures, the brass knick-knack, the smell of francinsence, rosewater and wonderful spices… also, try the variety of dates and sweets with a cup of tea – either Omani tea, called karak, an adaptation of Indian chai which is a super sweet, creamy tea enriched with condensed milk and spices like saffron, cardamom or rosewater, or simply a fresh mint tea. Visit the numerous museums and mosques, – they even have an Opera House of grandeur that is worth having a look at also from the inside -, check out the offers in the huge hypermarkets where you can easily spend a couple of hours on a rainy day, or just take a taxi and ask the driver to show you around the small old villages, which were only accessible by boat not long time ago.
Time is running slow, no need to rush. Instead – sit and watch, have a chat here and there and get into the flow of the Oman.
Did you know that the prayer carpet in the Grand Mosque in Muscat is the largest ever made handmade one, which is in one piece and contains 1.700.000.000 knots, covers 4.343 square meters, weighs 21 tonns and took 4 years to weave?
You can either visit the Oman as a 3-4 day stop-over program, in which you will not see a lot, to be honest. Or, spend 2 weeks at least, in which you could visit the area around Muscat and do a 2 night desert-camping – a lifetime experience! You need more time if you also want to see the far North, Musandam, or the far South, Dhofar.
When it comes to the cultural heritage, the list of amazing, breathtaking, spledid sights is very, very long! To start with the picturesque wadis (gorges), which are numerous and one is more pretty than the other one and you think, not only once, that you are in paradise. Then down South, in the history-laden Dhofar region with its endemic frankinsence trees: rub the rasin and catch that lovely smell! Or, the desert Rhub al Khali, which is the biggest coherent sand-dune desert in the World, also called the "Empty Quarter" formed from nothing but wind only. Take some time and enjoy the vast beaches and mesmerizing bays, where you can have a picnic or put up your tent, which – by the way – is not a problem at all. Or, visit the incredible UNESCO World Heritage Sites and enjoy the beauty of nature there.
Up in the far North, Musandam, you find an incredible fjord-like scenery and, while relaxing on one of the old converted dhow boats and being served with all kind of lovely things to taste from, you can watch the scenery pass by – to 98 % accompanied by many dolphins! You can also hop into the cristal clear water with its numerous shades of green and blue, and do some snorkeling. Or, drive up the high passes to catch an unforgettable view downhill – you can even see pre-historic wall-paintings and fossils there!
The cultural part lies West of Muscat: it takes you over high passes with breathtaking views, visit the many castles and forts in their unique mud architecture, walk through forgotten towns, take part in the famous cattle market where Nomads gather in order to sell and buy goats in a unique way, camp in the desert and experience the hospitality of the Nomads, experience what it feels like to hear nothing but the wind and see a 180 degree sky full of the brightest stars!
May I give you a little bit of history first:
The Sultan's father has taken over the country from his grandfather, built on loans from India, Egypt and other countries, So, the Sultan's father started ruling the Oman with only 15.000 English Pound! To make a country work on such a small amount of money, he, first of all, isolated it towards all surrounding countries and started building it up slowly, with hardly any influence from outside. In the run of the years he succeeded in uniting the 152 tribes to be ruled by only one leader, which – as you can imagine – was surely not always peaceful…
He, thus, was the 1. political leader in Oman, ever!
His only son, today's reigning Sultan Qabus ibn Sa'id Al Sa'id, a liberal Muslim, who was in his 30s by then, and was educated mainly in the UK, could not bear the brutal reign of his father any longer and took over on 23.07.1970 by coup d'état, when he held his first very important speech to the people of the Oman, in which he promised to lead them out of the "dark and backward and depressing Age" led by his father, with hardly any infrastructure and existing economy, illiteracy, poverty and illness, and thus declared the beginning of a blooming, succcessful and future-orientated Age.
So, he took over the legacy of his father, in which the Oman, by that time had only 2 schools, 1 university with 120 students and 2 hospitals – all of which were based in the extremly rural-kept Muscat, where the streets were bare rough roads, no water system and only wells.
By 2016, there were 2.000 schools, 17 universities and colleges, 54 hospitals and 39.000 km of perfectly paved roads all over the country, and on top it has become one of the richest countries in the world with a solid infrastructure. Today the rate of 18 36 year olds is 98% and this of born babies 41%!!!!
Just imagine what he did in those 47 years! – he has made true all his promises from 1970 and even more, and catapulted this country truely into a rich and ecomonical blooming future, with hardly any major inner political problems and with a folk, who is happy and satisfied.
It was the Oman, who has send his 1. Arab Ambassador to the United Nations, and until now, has never ever been ruled by any other countries; there were only the Portuguese who held control of a small coastline and trade for 14 years down South, but with no major influence of the actual ruling of the country.
Knowning all this, do you still wonder why the Omani people love their Sultan, Qabus ibn Sa'id Al Sa'id, so much?
And now, let me tell you a little bit about the social life:
Until the age of 10 boys either go to a pre-school or a Koran school, madrassa. Both are free of charge. From this age on, they are also allowed to visit a mosque, but only accompanied by a male adult.
Men are wearing their traditional robe: a thoub or dishdasha, an ankle-long garment made from fine cotton material with embroidered ornaments, mostly uni-coloured and the traditional embroidered Omani hat, the kumah. They are extremely proud and vain with their hair-does and beards and it seems they almost celebrate their visit to the hairdresser and barbar once a week. Here, there is always someone around they know to have a chat with or, get the latest gossip while drinking an Omani tea. Did you know, that in Oman they have the biggest variety of beard shapes?
When it comes to their clothing, you will be amazed of how many times a day they can change their dishdasha and accordingly the embroidered kumah…. And with each change, their perfume, which is put on the tassels of the dishdasha-collar, called furakha, changes, too. Another headgear to wear can be a sort of scarf which is wrapped around the head, called muzzar. And on official occasions, like weddings, business calls etc., they all wear the turban.
Talking about perfume: so, whenever there is left-over time for them, you can see them in one of the many parfume shops where they try out new extracts of perfumes for themselves and/or for their wifes and let them mix together by the shop owner. My friends, Nabeel and Muhammed, have around 50-80 different perfume extracts at home, which they mix together according to their mood and occasion.
Ah, I nearly forgot to talk about the "boys toys"…. Yes – the cars! (of course, what else ?!) As there are no taxes on cars and petrol, you cannot imagine what cars they drive! I have never ever seen so many high-priced cars within such a small spot! Incredible and pure luxury! Well, the only thing that bothers them though is, that they have to be kept clean by law…. YES, you very well understood: by l a w. This is one of the things where the Sultan Qabus ibn Said can't take a joke! So, if your car is being stopped or has been classified "DIRTY" by police officers, you have 3 options: 1. you pay a relatively high fine, because you know, that you will not be able to clean it within the next 4 hours. 2. you promise to give it a wash in the next 4 hours, so the officers note down your liscense plate number, name and address and do so. If not, they check it later on and you pay the fine then, 3. you simply ignore it, once, twice – and the chances are very high that you even land in jail. This is no joke!
There is not much traffic in the country, and while driving overland, you sometimes hardly see any other cars pass by… Gasolin is extremely cheap, insurance is cheap and self-driving is not a problem at all, as long as you are familiar with driving on the left. It is very tempting to buy one of those hyper-cool, modern pick-ups with a lot of horse-power, as they are pretty cheap in comparison to the western prices. You may guess, that there must be a /Krux/Einschränkung somewhere… and you are rigtht! The only Voraussetzung is that the bought car has to stay in the country for one year, after that you can transfer it to your final destination.
Omani people enjoy a very high standarf of living and get a lot of things for free from their Sultan: education, medical service (you only pay for the medicine and a very small service fee (by the way, so do also all foreign people/tourists – it happened to us that we needed to go to hospital to do x-rays and all sorts of examinations!). There is no tax, not on cars, gasolin, VAT, housing, wages – nothing! So, people earn not that much in comparison, ok, but the Sultan sees to it, that everyone can make a good living and that no-one has to starve or beg. For those, who find it difficult to financially survive, there is always the possibility of talking to the Sultan, giving him a good enough reason why he should help you, and then, he takes his actions. In this way, the Sultan , for example, let build nice detached houses for financially week people. Also, every Omani – from birth on – gets a title for a patch of land – for free, on which he can built his house and/or do some farming.
The average salary per month for example of a normal teacher is around 1.000 €, for a police-man around 1.200€, and for someone working in government around 3.300€, – cash on hand, that is!
Women are highly educated and their English is superb, they work in high positions in big companies and in government and are even elected ministers. Their role in society is on equal terms with men. They are quite confident, self-determined, proud, and like going out with (female) friends. It is nice to watch them giggle and discuss on the streets or in cafés. Most of them, I would say, are reserved at first, but once you talk to them (of course only women to women!), they open up. If you talk to them as a man other than a family member, they will very clearly tell you off! So, do not even dare.
When out on the street, they wear their traditional garment, called the abaya together with a fitting kimono and a long scarf over their head – the way they wear it, sometimes looks breathtakingly seductive… Mainly the bedouin women wear a traditional headmask, the burqa.
The preferred material of the garments varies from not only from region to region, but also from city people to village people. While in the city the material is black or dark-coloured, but often transluscent on the arms – which gives it an elegancy of its kind – and are tailered in a very modern design. Also, the women living in the city hardly wear masks. On the other hand, the rural version is more colourful and simple in style, but nevertheless, beautiful to look at; the nomadic women, instead, wear masks.
Something very interesting, you can see down South, in the region around Shuwaymiyyah: not only that the young nomad women here are extremely beautiful, but the look of their abaya is different: more short on the front than on the back, where it almost looks like a train. The story behind this is, that in former days one believed that the wizards were able to put a spell on women's foot traces in the sand and thus, make them theirs. So, in order to provide protection, the train of the robe covered those traces while walking… this tradition is still kept lively until now.
Western style clothes you can find mostly on kids and teenagers. Also, here times are changing…
While men regard themselves as the family provider (either for their wifes and/or for their parents) and normally bring the money back home, pay all the bills (house, journeys, expenses for his wife and kids), look after the house and car, the women educate and care for the kids, keep the house clean and neat, do the cooking, and go shopping to spend their money on clothes, shoes, perfume, cosmetics – and I tell you, they spend a hell lot of money on that! All this of course may be the case mostly with "city-people". Country-life is different, more rustic and purposive – as everywhere else on this planet.
The main income of the country comes from oil production and no. 2 comes from the income made by the police, so they say – by that I mean, income made by abuses, i.e. not caring for the red light, a dirty car, speed limits (cameras are everywhere!), parking fees,… So, this explains the huge police stations which are being built everywhere in the country – grand in architecture and size!
If you imagine, Oman employes about 90.000 police officers, who are in charge of all kind of things, like Visa applications, administrational requests, driving licenses, all sorts of fees, and of course the income made by the above mentioned abuses. So, a lot of money from this side!
Muhammed gave me an example: First time you cross a red light by car means, you go to jail for 1 week plus you pay a fine. Two times too fast means, a high fine; if you are caught a third time you will either lose your job or, your kids are not longer allowed to go to school – bloody drastic, BUT very effective. Because of that, here you will find hardly any crime rate, and the High Court almost exclusively deals with matters of contracts, disputes and accounting.
But, what all of them have in common:
the Sultan and its people love their country, hold their culture and heritage high and only pick out the good things from Western countries to integrate them in their live-style. They are very much interested in everything, but nevertheless stronly bound to their religious belief. They believe in the Koran, independence, education and peace.
You see, I could carry on, and on, and on …. and last but not least:
Most of the questions I get, when it comes to the Oman, is:
do you feel comfortable and safe as a blond woman while travelling? Can I walk around on my own as a woman?
is the country safe?
is it expensive? Are credit cards accepted?
how about the visa regulations – is the procedure difficult and expensive?
Well, to ease your mind:
it is one of the safest countries on this planet and was put on a Top Ten list of "The safest countries of the World" just recently.
The role of the woman in society is on equal terms with men, there is no harassment, no stupid annoyance towards women – as far as I can say (and many other women travellers told me so, too) BUT, of course, it all depends on the female tourist themselves. It is quite embarrassing to see how female tourists are dressed, although they know – or, better they should know – that they are travelling through an Islamic country! So, this is the dress code, ladies: arms, legs and collar covered – no need for a scarf on the head, which you only, but definitely, need in a mosque.
It is a f** rich country, and of course, they accept all major credit cards in hotels, big shops and travel agencies, but not on markets and in isolated places, of course. There are also cash-machines in every bigger town. BUT, if you travel overland, make sure you take enough cash money with you – you never know…
it can be expensive, yes, but this depends on your life-style and expectations. BUT, while a double room in one of the many 4-5 star hotels cost from 100 US Dollars up depending on season and comfort, a more simple but nevertheless clean and charming double room in one of the City hotels only costs around 50 US Dollars. The same is applicable to food. Overland you can enjoy a yummie but simple lunch or dinner for about 2 US$ in a local restaurant, or you opt for more expensive "frutti del mare"…
Visa regulations are easy for Europeans, but of course, everyone has to check the "Foreign Ambassy" to learn about their own countries regulations. As I am German, I can only say that it is no problem to go for the "Visa on Arrival" which you get at the Airport. You cannot miss the counter. Sometimes though, it takes some time to queue and pay (by the way, you can either pay by credit card (Visa, Master Card) or, by cash in US Dollars and Euros.
Just in case you are being picked up by someone, make sure you calculate at least 30 minutes extra time for the visa-counter.
Hope you enjoyed my information end of blog – and NO, I am not working for the Oman Tourism Office.. 😉
Information:
In the last years quite a few people took my experience and asked me to help them with ideas and their organization of tours.
This brought to me the idea of offering exactly this kind of service for single travellers, female travellers, for those who do not like travelling with big groups or, for those who just have individual ideas of places to visit along their trip.
I help them do the planning according to time, money, number of people and focus (nature, city, national parks/safaris etc.), offer help when it comes to which agent to take, what kind of car is recommended, money affairs, dos and don'ts and I help to make a travel itinerary.
So, if you want to know more about it or, you need some travel advise, just contact me.
Please note, that I do not do any bookings and payments!
You can also purchase my images on my website – just have a browse through!